Structured Programmes - Senior Cycle
Ways to Well-Being
Our train the trainer programmes are designed to support schools with educational wellbeing programmes to empower students develop their social and emotional intelligence.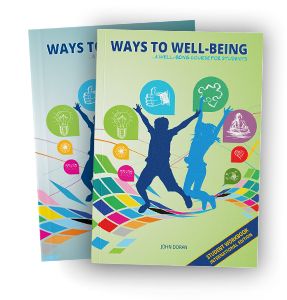 Ways to Well-being is a Senior Cycle wellbeing programme giving students the confidence, motivation and resilience to develop the mindset to deal wita a increasingly challenging world
Young people are living in a world filled with more choice and opportunity than any previous generation. However, this choice and opportunity brings challenges and from time to time unfulfilled expectations for students, which all impacts upon their sense of well-being.
This programme was developed by John Doran, who has worked as a teacher and now guidance counsellor in the Patrician Secondary School, Newbridge for over 20 years and builds upon his own experience of delivering well-being courses to students. As part of the training programme teachers are provided with a resource pack which guides them through the effective delivery of the Ways to Well-Being Programme.

Teachers are introduced to methodologies for exploring well-being with students and the context for delivering a well-being programme in school exploring some of the stress factors in students' lives.
Empty space, drag to resize
Outcomes
Following the train the trainer well-being programme, teachers:
Are equipped and feel confident to deliver a well-being programme to senior cycle students.
Know how to increase students' self-management, problem-solving, communication, self-esteem and resilience skills.
Are capable of engaging students in mindfulness practice and activities.
Content
The content of the programme is designed around the five core areas of relationship which affect well-being:
Life

Emotions

Mindset, meaning and purpose

Past, present and future

Personality, talent and performance.
Details
Empty space, drag to resize
Audience: Teachers interested in delivering a well-being programme to Senior Cycle Students.

Bookings: Schools may wish to book a whole staff training or for individual teachers
Empty space, drag to resize