Structured Programmes - Junior Cycle
Learning to Learn
Our train the trainer programmes are designed to support schools with educational wellbeing programmes to empower students develop their social and emotional intelligence.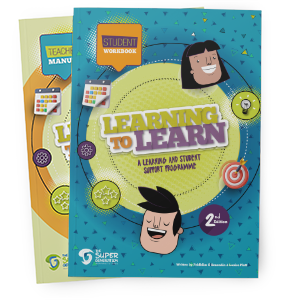 The Learning to Learn programme provides students with the cognitive and emotional awareness tools to support them on their journey through the Junior Cycle. The overall purpose of the programme is to create confident, connected and engaged learners.
This programme is designed to equip teachers to deliver a short course on learning and student support as part of the school's wellbeing and guidance programme. One of the key objectives of the Junior Cycle is to place the student at the centre of the teaching and learning by developing more active and collaborative learning opportunities for students and thus creating a balance between the development of subject knowledge, thinking abilities and the development of key life skills.

This updated and revised edition follows on from the success of the first edition being taught in schools throughout Ireland since 2017, and it builds on the feedback of the schools and teachers involved.

Along with a greater emphasis on the cognitive and emotional awareness that students need to succeed, the indicators for wellbeing are now included in each chapter.

The programme is structured so that there is a balance between development of subject knowledge, thinking abilities and key life skills, helping students to understand themselves better in order to succeed in learning and life.

The programme is designed to be delivered by subject teachers, guidance counsellors and members of the pastoral and student support teams. And contributes to the 400 hours' well-being allocation at Junior Cycle.
Empty space, drag to resize
"Well-being is such an integral part of school life now. This training is almost essential for teachers and provides insights for learning in all subjects. I have highly recommended it to other teachers already."
-
TEACHER, CROSS AND PASSION, KILLCULLEN
Overview of the programme
The programme is divided into sections to reflect the students' journey through the Junior Cycle. Each lesson is characterised by being learner centred, with an opportunity for reflection at the end.
The Study Journal found at end of the student workbook is a results-focused time management tool to increase students' productivity, effectiveness and application to their studies.
Section 1
Transitioning and Learning
Supports students in settling into secondary school by sharing with them simple skills to connect more with what is happening around them.
Section 2
Motivation and Learning
Focuses on the power of motivation, enabling students to recognise their strengths and set goals for success along with sharing with them our highly recommended study and revision system.
Section 3
Resilience and Learning
Develops students' emotional awareness and resilience to better cope with challenges and stress and establish practical coping strategies.
Elements of the Programme
Online training for teachers

Teacher resource manual

Student workbook
Content
The Learning to Learn programme is learner centred and experiential, with relevant practical exercises from across the range of Junior Cycle subjects.
Details
Empty space, drag to resize
Audience: Teachers interested in delivering a Learning to Learn Programme to Junior Cycle students.

Training: Online
Empty space, drag to resize