In-School Seminar
Classroom-Based Assessment (CBA) Skills Workshop for Junior Cycle Students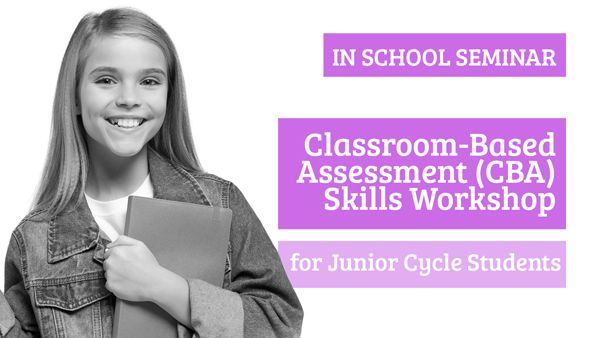 In the 21
st
century, learning is not just about memorising facts and figures; the focus of education has shifted to include mastering skills that prepare learners for a rapidly changing world.
The eight Key Skills that underpin the Junior Cycle framework go beyond traditional academic knowledge and equip students with the skills they will need as learners, workers, and leaders. CBAs provide the opportunity for students to develop and demonstrate these skills.


This workshop is designed to ensure learners are equipped with the knowledge, supports, and skills needed to successfully complete a CBA.
We take the stress out of tackling CBAs by providing learners with a roadmap for them. We have identified six skills common to all CBAs: Planning and Organisation, Connecting to the subject, Research, Presentation, Accuracy, and Reflection. The workshop unpacks these skills and empowers learners to use them effectively.
Content
CBAs explained

Six skills required to complete your CBA

Case study

Assessing real CBAs

The workshop employs direct instruction and novel learning experiences. Students will step into the shoes of an examiner to assess sample CBAs and discuss their findings. This hands-on experience gives a clear vision of what it takes to create an engaging and creative CBA.

Our CBA workshop focuses on developing skills that go beyond traditional academics, providing a roadmap to success in future learning.
Logistics:
Audience: Second and third year students

Cost: Depends on number of students

Venue: At your school (nationwide)

Duration: 2 hours
Author: Dr Gráinne Mulcahy
Dr Mulcahy is a full-time teacher of Maths, Science, Biology and Religion working in one of the largest schools in the country. She has worked on the in-service provision team with Junior Cycle for Teachers. A Master's in Chaplaincy and Pastoral Work has grounded her in a very student-centred approach to teaching, and student welfare and wellbeing are at the heart of her work with schools, teachers and parents. After 30 years of teaching, she took on a Doctorate in Education with TCD. Her research focused on Junior Cycle, with a particular interest in learning and assessment.
Related Courses
Understanding Learning for First Years: How to Become a Successful Student -
In School Seminar
Learning and Study Skills for Junior Cycle -
In School Seminar
Learning and Study Skills for Senior Cycle Students - In School Seminar